Expedite
FBI Background Check (Rap Sheets)

Services In Portland, Oregon
PDX Fingerprinting offers FBI background checks in Portland, Oregon. Whether you are looking for the right job, immigration, adoption, or personal review, PDX Fingerprinting is here to streamline the process.
FBI Background Check Services For Individuals And Businesses.
An FBI background check is an important step in many different processes – like getting a job, volunteering with children, or adopting a pet. Why risk making a mistake on your own when our team of experts can help make the process easy and straightforward for you?
Do you need a reliable and trustworthy company to handle your FBI background check (Rap Sheets) needs in Oregon? Look no further than PDX Fingerprinting! We have over 10 years of experience in this field and are dedicated to providing our customers with the best possible service.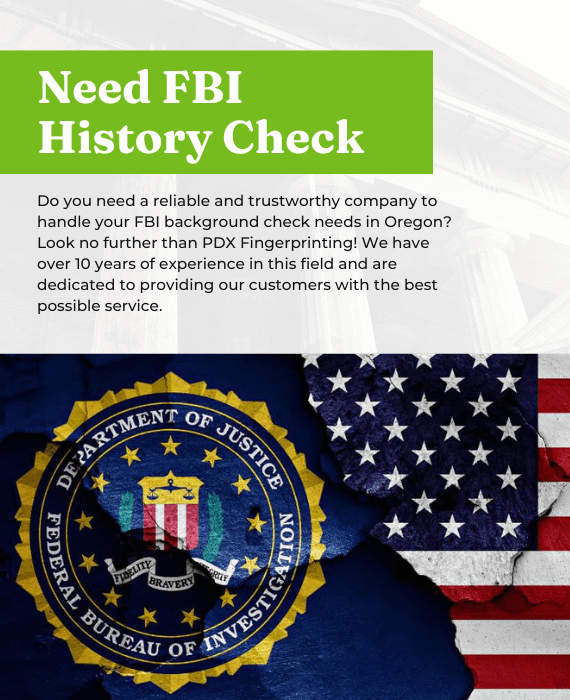 FBI History Check (Rap Sheets)
The FBI conducts criminal background checks for many reasons, such as when someone is being considered for a job that involves working with children or other vulnerable populations or when a person is seeking to obtain a concealed carry permit. At PDX Fingerprinting, we help you with your FBI background check fingerprinting in Portland, OR. Everything will be handled from our end., from fingerprinting and forms to shipping and delivery
What information is required in the FBI Background check?
A few different types of information may be required in an FBI background check. This can include biographical information, criminal history, employment history, and credit history. Additionally, the FBI may require fingerprints and may conduct interviews with friends, family, and associates of the individual in question. At PDX Fingerprinting, we help you address your fingerprint scan problems. Whether electronically or ink-based, our experts provide professional service that makes this process easier for you.
Book your hassle free consultation now!
Who is required to have an FBI background check?
FBI Background checks are required for all prospective local law enforcement employees, federal agencies, and some private businesses. The requirements for each position vary, but most require that the applicant submits a fingerprint-based check through the Federal Bureau of Investigation's Integrated Automated Fingerprint Identification System (IAFIS). At PDX Fingerprinting, we help you submit your fingerprints to the FBI in the most accessible fashion. Get in touch to learn more about our FBI fingerprinting service.
What are the reasons for the FBI background check?
• To ensure that the person has no criminal history.
• To ensure that the person is not a security risk.
• To ensure that the person is not on any terrorist watch lists.
• To ensure that the person has no outstanding warrants or charges against them.
• To ensure that the person has not been dishonorably discharged from the military.
• To ensure that the person does not have a history of mental illness or instability.
• To ensure a smooth adoption process.
• To ensure that the person has no history of substance abuse.
• To ensure a person's court-related history is correct.
• To get a general sense of the person's character and reputation.
Why Choose PDX Fingerprinting for FBI Background Check Services in Portland, OR?
If you want hassle-free fingerprinting services where you are guided throughout the procedure, PDX Fingerprinting is it for you. We are affordable, disciplined, and professional.
Trained Staff – PDX Fingerprinting is a team of professionals who have been trained and honed under the culture of the company.
Quick Service – Our fingerprinting services are quick and worry-free. A dedicated professional will collect your fingerprints and guide you with your questions.
Privacy & Security – The information you provide us is sensitive, and we ensure to keep it secure and private. We don't share your information with anyone.
Affordable – We have some of the best rates in the market. However, we don't allow our services to be below-par just because we are more affordable than others.